Cedar Closets
by Romantic Authoress & The Muses by: Victoria L. McColley
Thursday, April 08, 2010
Reminiscent Love...
Your First Love?
Your Last Love?
Memories are precious from everything they offer us...
Lessons-Wisdom's & Revelations to The Soul
...and also creating memories is best of all, too then embrace or release...
---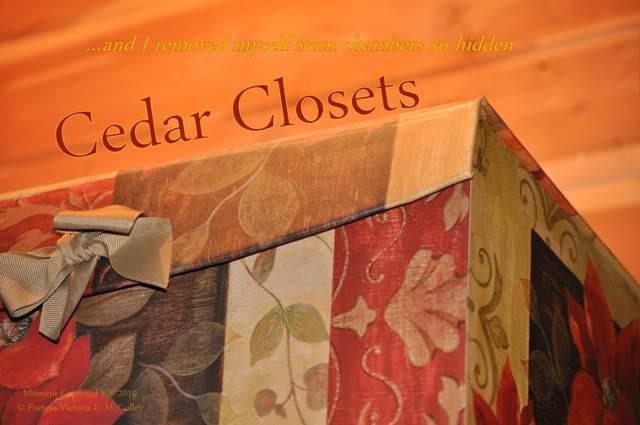 They have cedar closets holding secrets.
This is where I placed your letters;
Upon the heart of my soul…
Your words bore into memories
where love erased all my wounds.
And your touch…your touch gave me devote promise,
as I believed in the depths of your eye's pool;
Where I thought I seen the colors of your soul;
Glistening where the truth embraces all wisdoms…
…and I removed myself from chambers so hidden
even I could not find myself…for I was lost in time's capsule;
Watching zephyrs pass me by;
Being offered fragrant bouquets…
I seen the gulls over oceans crying to the moon.
And then, as I walk with my bare feet upon sandy shores,
I realized…your letters where just a dream…
(Written: April 8th, 2010 6:44 a/m)
In Joy, In Peace, In Grace, In Harmony of Love
Love's Bounty Embracing Unisons of Truth
Copyright© 2010 Authoress|Poetess Victoria L. McColley